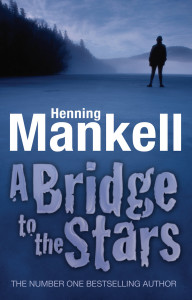 This short novel by Swedish writer Henning Mankell is the first of four books about Joel Gustafson, a 12 year old growing up in a remote part of Northern Sweden with his father. It is followed by a second book, Shadows in the Twilight and, The Boy Who Slept in the Snow (also known as When the Snow Fell) and last, Journey to the End of the World.
This book is not very similar to other works by Mankell, except that it is highly sensitive and insightful of character and setting (traits which make even the grisly murders and detective work of the Wallander series so interesting). In A Bridge to the Stars, Joel's father is a moody and difficult character who relies on his 12 year old son to do much of the domestic work in their home as well as go to school and be a normal kid. Joel is fascinated by his father's tales of working as a sailor, though they now live far from the sea and his father works as a lumberjack in the forest. Joel is also trying to deal with the absence of his mother, who he learn is absent not because she is dead, which Joel could understand, but because she couldn't be a mother and wife. Joel learns some important lessons about his father, and how friendship can mislead us to do things we regret. He learns that true friends often come to us from unlikely places. A Bridge to the Stars is a memorable coming of age story set in the remote north woods of Sweden, and is a sensitive study of late childhood from a very talented writer.
This was not by any means my favorite of Henning Mankell's works, but it is certainly one I will remember and someday perhaps revisit. Mankell has been made famous for his Kurt Wallander series of police procedurals set in Skane in the south of Sweden. But he has more recently written some wonderful (less-genre) fiction which deals with the realities of life in Sweden and Southern Africa. Secrets in the Fire is a work of remarkable thought and sensitivity, and, like A Bridge to the Stars, told through the eyes of an intriguing young character. (Frequently, these books are classified as Juvenile Fiction but I would say this one would be of equal or greater interest to an adult.) In any event, these books represent a captivating layer in the larger body of work Mankell has created. Mankell's ability to see the world from the perspective of a young character is what makes this such a powerful book, and it should be read by any who aspire to tell stories from the perspective of the adolescent.
Note: this review of A Bridge to the Stars by Henning Mankell appeared in an earlier draft on Goodreads in June 2009.
---