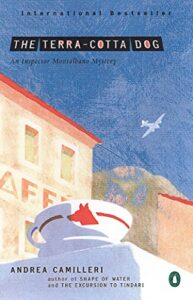 The Terra-cotta Dog is second book in the Commisario Montalbano series and was originally published in Italy by Sellerio in 1996 with the title Il cane di Terracotta. The English translation by Stephen Sartarelli was  published by Picador in 2002.
The Terra-cotta Dog is a plot-sirocco — a story sandstorm — weaving a wild tale with threads as old as Sicily itself: organized crime, corruption, migration, friendship, and murder. Inspector Montalbano is confronted by Gege Gulotta, a childhood friend, now a scoundrel and a petty criminal with an offer from a local mafia boss in hiding. This mafioso, Gaetano " Tano The Greek" Bennici, is in poor health and wants Montalbano to stage a fake raid in which he can be apprehended without losing face, so he can get medical treatment as a prisoner in a hospital. The staged raid goes very wrong.
Meanwhile an investigation into a supermarket robbery leads Montalbano to a group of caves where the stolen merchandise and a cache of weapons is found, but it also leads to the discovery of a hidden chamber where the sixty year-old skeletal remains of two murdered migrant lovers are found with a terra-cotta dog.
The Terra-cotta Dog expands the world created in the first novel, The Shape of Water. It drawn out the characters of Salvo Montalbano and his capable and ambitious underling Mimi Augello and introduces many well-crafted new ones. The story is rich in characters who don't just advance the primary plot, but who develop the complex world of the fictional town of Vigata and the character of Montalbano. In the end, The Terra-cotta Dog is a refreshing and engaging mystery. If you read The Shape of Water, you will love being led back into Camilleri's version of Sicily. If you read The Terra-cotta Dog, beware, there are now over twenty more titles in the Montalbano series ahead, and you will find it hard not to continue with this series.
---