I have mixed feelings about the Lisbeth Salander character phenomenon. Stieg Larsson's three books were indeed thrilling, compelling reads. Were Larsson alive and releasing the fourth installment written by his own hand, I would without question be reading the final pages of the book instead of writing this. But what can we say about a success in storytelling and bookselling so great that it is compelled — purely as a formula of revenue generation — to continue after its author has died?
There is nothing new in the idea of art for money. Nor would it be the first time an estate has found or allowed a successor to continue a creative endeavor purely for financial gain.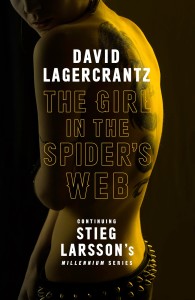 Of course, the battles over the estate of Stieg Larsson are now quite famous. When Stieg Larsson died suddenly in 2004, the rights to his soon-to-be publishing fortune passed under Swedish estate law to his father and brother, Erland and Joakim Larsson, instead of his common law wife, Eva Gabrielsson. The newest chapter in the saga is now in place with the publication of David Lagercrantz' The Girl in the Spider's Web, the fourth installment in the Lisbeth Salander series, which appeared in U.S. bookstores this week. There is a part of me which is incredibly curious about the new author and the possible direction of the story. But, sadly, I recognize this facet of my personality as the same one that led me to watch Rocky IV and Dumb and Dumber To. The very idea that there can be a Lisbeth Salander without Stieg Larsson leaves a strange and unpleasant taste in my mouth.
As I read the many reviews and articles about the release of the the new book, I find myself thinking of Luigi Pirandello's 1921 play "Six Characters in Search of an Author" which has aptly been described as "absurdist meta-theater". The play opens as a company is preparing to rehearse a Luigi Pirandello play only to be interrupted by six characters who are looking for the author to complete their stories. What if Lagercrantz turns out not to be a worth proxy, will the search continue? Larsson apparently anticipated 10 titles in his story.
In a strange sense, the financial success of Stieg Larsson and the tragedy of his untimely passing has created the perfect environment to culture a modern, real-life absurdist meta-theater. All too often, sequel efforts require the creative authority of the original creator to deliver a successful experience to fans. We can only hope David Lagercrantz doesn't disappoint. I'm not sure I'll be reading this one any time soon.